Glass Display Cabinets, trophy cabinets and custom-made cabinets to display your awards in.
Display your awards in beautiful trophy cabinets for schools, sports clubs or home.
Glass display cabinets and trophy cabinets are all made by us here at Idea Showcases.Beautiful hand-made Trophy Cabinets for schools. Trophy cabinets,bespoke glass display cabinets  made to your chosen sizes. We make glass display cases and frame-less display cabinets to any custom sizes,let us design the space you have in mind.
We will deliver all our glass trophy display cabinets to all our counties and city's in the UK.
Avon –  Bedfordshire –  Berkshire –   Buckinghamshire –   Cambridgeshire –   Cheshire   –  Cornwall   –  Cumbria   –  Derbyshire –  Devon – Dorset-  Durham- Essex –  Gloucestershire – Greater London –  Hampshire –  Herefordshire –  Hertfordshire –  Isle of Wight –  Kent -Lancashire -Leicestershire -Lincolnshire -Merseyside  – Norfolk – Northamptonshire – Northumberland – Nottinghamshire – Oxfordshire  -RutlandSchools  – Shropshire Somerset – Staffordshire -Suffolk – Surrey  – Sussex – Tyne and Wear – Warwickshire  – West Midlands -Wiltshire -Worcestershire -Yorkshire
Delivering our Trophy Glass Display cabinets to your city:
To all schools in:
Bath,Birmingham,Bradford,Brighton&Hove,Bristol,Cambridge,Canterbury,Carlisle,Chelmsford,Chester,Chichester,Coventry,Derby,Durham,Ely, Exeter,Gloucester,Hereford,Kingston upon Hull,Lancaster,Leeds,Leicester,Lichfield,Lincoln,Liverpool,London,Manchester,Newcastle upon Tyne,Norwich,Nottingham,Oxford,Peterborough,Plymouth,Portsmouth,Preston,Ripon,Salford,Salisbury,Sheffield,Southampton,St Albans,Stoke-on-Trent,Sunderland,Truro,Wakefield,Wells,Westminster,Wolverhampton,Worcester,York,Aberdeen,Dundee,Edinburgh,Glasgow,Inverness,Perth, Stirling,Bangor,Cardiff,Newport,Swansea.
Trophy Cabinets for Schools…….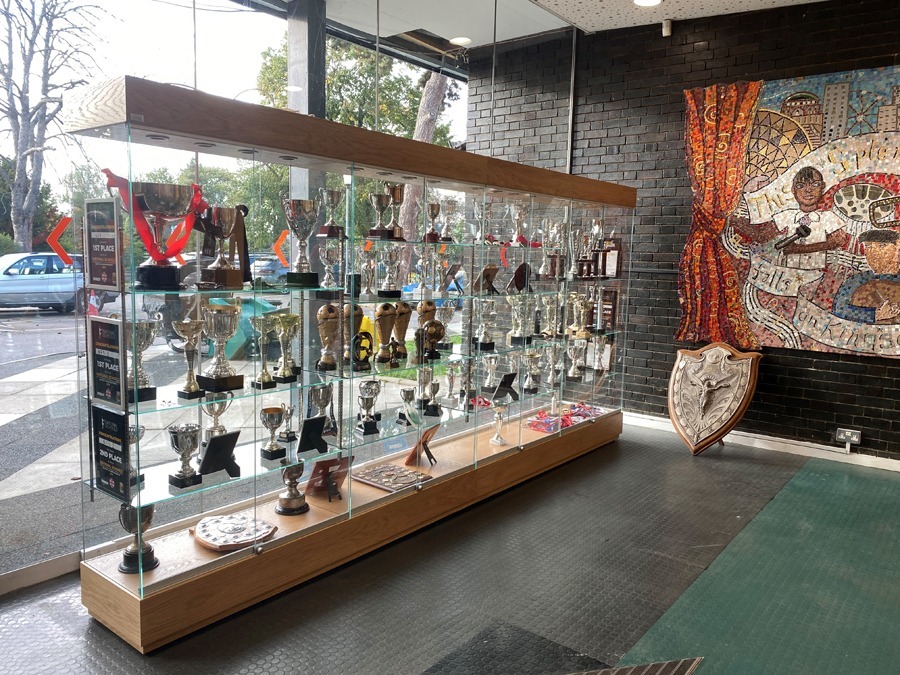 Glass display cabinets and school trophy display cabinets are a great way to show off your work and awards. Another key point is Our custom-made trophy cabinets are all hand made to the highest quality here at idea showcases. Furthermore we can make our cabinets to any length to fill those display walls and even go up to 2300mm high. Just give us the size you need, and we will draw it up and give you a quotation free of charge.
We have School Trophy Cabinets glass display cabinets for your office reception areas, school reception areas and your home too. We can make bespoke cabinets for the home collectors of Lego, Marvel Figures, Pokémon Cards.
Jewellery display Cabinets made to order in lots of different styles and materials. All our cabinets include the highest-grade LED lights. We also specialise in Glass UV bonded cabinets for cafe's, retail shops and modern gallery exhibitions. All our retail display cabinets are made to the highest quality to help you get the most from your perfect cabinet. Custom made glass display cabinets are all designed and made by Idea Showcases.
The highest quality of our cabinets and the service we provide to our customers is a great experience from start to finish.
We offer, all our Wooden wall mounted trophy display cabinets for golf clubs and sports clubs, custom sizes so they can be made to the size you need.  All our standard range of cabinets  are ready to be delivered and install by our own installation team within 6-8 weeks.
We have lots of colours to choose from, painted finishes as well as our full timber range. We will deliver your cabinets to any city in England,Scotland and wales.
Idea Showcases also manufacture frameless trophy display cabinets, trophy cabinets for schools, school trophy cabinets and memorabilia glass display cabinets.
Our frameless glass display cabinets are made to order therefore can be made to any bespoke size offering you that perfect display cabinet.
As one of the leading companies in the UK Idea Showcases Ltd offers extensive experience in custom made glass display cabinets, bespoke display cabinet manufacturing and the delivery of glass display cabinets and trophy cabinets for schools all in house.
Jewellery Display Cabinets ……
Also, we specialise in making jewellery display cabinets and custom-made glass display cabinets to the highest standard. We make all our cabinets for Jewellery shops, business, schools, universities, sports clubs, hotels and retail shops.
Our Trophy cabinets are handmade, you can choose from our standard range of trophy cabinets, or we can custom make to your bespoke cabinet size.
We offer a glass UV bonding cabinet service for cake stands, model collectors, football cases, jewellery pedestals and museum cabinets.
Idea Showcases are passionate about providing a high-quality affordable range of display cabinets and trophy cabinets. With many special configuration options and finishes available we hope to meet your needs. Also, all our cabinets come with toughened safety glass as standard as well as LED Lighting.
Trophy Cabinets for schools ……… choose from our standard range of trophy cabinets or let us help with a bespoke cabinet